Come experience the paintings by legendary artists' and beloved father and son, Roger and David Curtis July 23 – August 13. We invite you to a Gallery Talk with Judith Curtis on Sunday, August 6th starting at 12 PM noon.
Father and son, both Roger and David were beloved members of the Cape Ann art scene. They each lived a dynamic life in the arts and served as instrumental instructors and leaders within the greater community. Masters of the brush, their work continues to inspire us today and will for generations to come.
Roger Curtis (1910 – 2000), born in Gloucester, MA, became a pillar of the Gloucester arts community. He was a prolific painter of maritime scenes and seascapes and a longstanding resident of Gloucester, involved in the arts locally as both President and Treasurer of the North Shore Arts Association. Author and illustrator of the book "How to Paint Successful Seascapes", Roger was always dedicated in his contributions to the arts at-large for both him and his close family.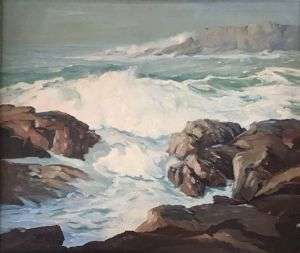 David Curtis (1950 – 2021), born in Brookline, MA, was introduced to painting at a young age by his father, Roger Curtis. Taught by his uncle Howard Curtis at Gloucester High School, this family-trained artist was propelled at a young age into the greater artist community. With his studies at the Boston Museum School as well as learning alongside esteemed painters such as Ken Gore and Robert Douglas Hunter, award-winning artist David Curtis earned a lasting reputation as a prominent figure within the greater North Shore arts community.
Father and son bring a unique viewpoint to both subject and technique. David – a plein air painter and teacher – was inspired by vistas where wide-open spaces, ephemeral clouds, and big skies gave him the opportunity to explore the rhythm of nature set out before him. Roger, on the other hand, born and raised in Gloucester, was more influenced by the powerful metaphor of a pounding ocean, roaring onto a rocky coastline under brooding skies. As a studio painter, Roger created these images from memory coupled with the classic fundamentals of good design. Seeing the work of these two Cape Ann artists beside one another enhances each individual style and is a joy for all interested in the arts.